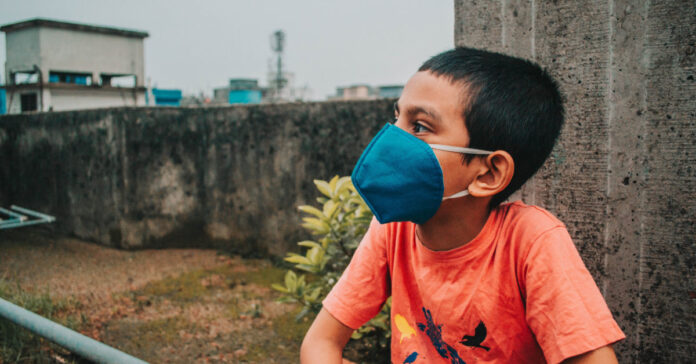 After further reading and research, I am somewhat relieved to report that the expansion of COVID-19 cases we are seeing in the South is not the dreaded second wave but is actually just the continuation of the first wave of coronavirus. Most of the states seeing increases, such as California, Texas, North Carolina and Arizona have never seen a significant decrease. The first wave of cases is still building in these states, and in many cases, their wave is continuing to build rather than flattening.
In epidemiological terms, these states ended their stay-home orders prematurely, and Arizona arguably started it's too late. In economic terms, however, they had no choice but to reopen.
CDC Warnings
The CDC is reminding folks that if we don't behave, they might have to lock us down again. I have doubts at how many people will adhere to a new lockdown. I think people are pretty fed up and there will be a great deal of people who refuse to close unless their neck of the woods start getting New York City-levels of cases and hospital overcrowding. In short, unless there is an obvious and imminent health emergency, I don't think people are going to tolerate a lockdown again.
If the CDC is lucky, they will be able to stop mass gatherings of people at sporting events, concerts and mega churches. But with the protests on one hand and Trump rallies on the other, it may be too late.
But to take the CDC warning in context, read this interesting article about fear mongering and the coronavirus. It makes a number of important points, including how data is being manipulated to show "hot spots" where none exist, and how prior models and media projections have been off target.
So maybe we don't have that much to worry about after all. In any case, protecting yourself from a potential coronavirus infection or choosing not to is your decision and responsibility. Take into account your age, your overall health, your wants and needs and act accordingly.
Latest Numbers
The number of newly reported U.S. cases in the past 24 hours was 25,400, an increase of 1.2 percent, bring the total to 2,059,500 in the U.S. according to the New York Times. The number of deaths attributed to COVID-19 was 852 in the past 24 hours for a total of 114,752. Both the percentage increase and the quantitative increase are on the high side for recent weeks, however the death rate continues to decrease. As total deaths are a lagging indicator, we will monitor these carefully to see if deaths tick upwards over the next couple of weeks.
As we mentioned before, total current hospitalizations and hospitalization utilization rates are probably more accurate measures of the severity of the current infections, but we are not aware of any nationwide database tracking these numbers.
Global Report
Global cases climbed 132,000 to 7.682 million while deaths climbed more than 4,000 to 426,427. The table below demonstrates how the virus has spread in each country over the past week: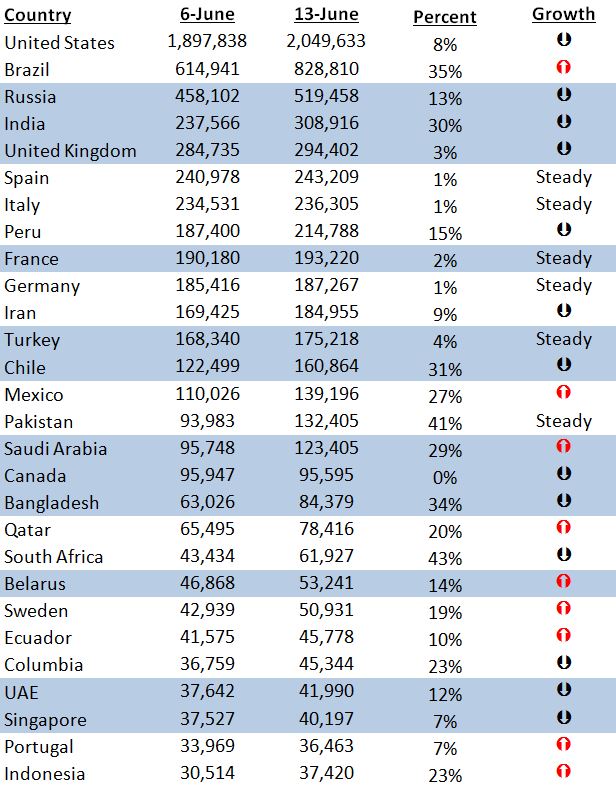 The most obvious thing about this table is the sea of red as countries who are further behind on the curve struggle with cases growing 20 to 40 percent.
At the top of the table, you will note that India has surpassed the UK, Spain and Italy while Peru has surged ahead of France. The European counties that lead the outbreak with rapidly climbing case counts are now being over taken by countries that contracted the virus later, mostly in South America, the Subcontinent and in the Middle East.
Saudi Arabia, Pakistan, Bangladesh, South Africa, and Columbia have also moved upwards as the virus grows outside of Europe. The UAE and Indonesia have both been added to the table for the first time.
If you find this chart interesting, please note that we publish similar data most weekends. You may wish to review the data from last week or two weeks ago when Brazil had only 465,166 cases.