The United States reported 37,332 new COVID-19 cases in the past 24 hours, and only 267 deaths. Things brings the total number of cases to 7.14 million with 204,597 deaths
Globally, there have been more than 33.1 million cases — an increase of 2 million in the past week — and 998,372 deaths, with the latter likely to reach the 1 million milestone in the next 24 hours. Here is how the countries with the most cases are performing: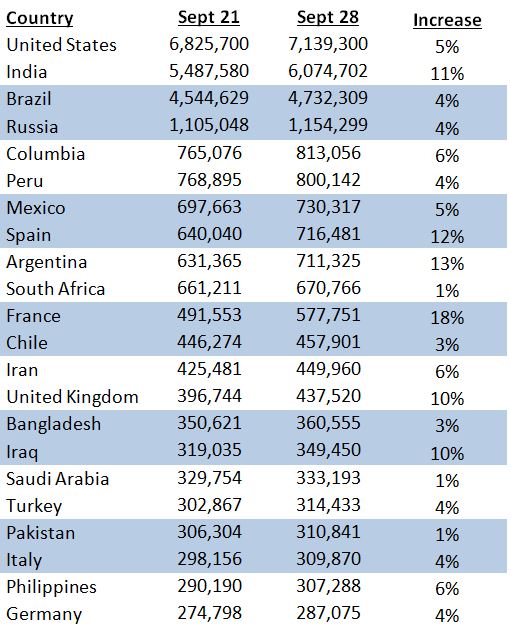 Notable is the increase in India, which continues to close the gap with the U.S., even as its rate of growth shows some slowing. Columbia has overtaken Peru fort fifth place. Spain, which leads Europe in cases, and Argentina have both jumped ahead of South Africa. Iraq has pulled ahead of Saudi Arabia while Turkey has moved up one, overtaking Pakistan.
Rates have increased in the UK and France while dropping by a percent in Germany and Spain. Europe remains concerned about its rates, which are significantly higher than during the summer.
---
If you enjoyed this report, you can can see last Monday's report.