There are not many people alive who remember the Pearl Harbor attack, which took place 78 years ago today. Both my parents were children at the time, and my mother lived in San Diego where her father was with the U.S. Navy. She used to tell me about the blackouts and the fear she felt every time an airplane flew over when she was lying in bed trying to fall asleep at night.
Perhaps one day, my daughters will tell their kids about the battle against COVID-19 and how dark it looked before the dawn broke.
My generation had 9/11, now almost 20 years ago. One can't help but wonder if there will be another surprise attack in our future, a defining moment for a generation not yet born. Here's one possibility: A Nuclear Pearl Harbor in our Future?
COVID-19 Cases Continue to Rise Across U.S.
The U.S. is adding more a million new cases of COVID-19 every five days, with the average number of cases for the past 7 days right at 191,542, according to the New York Times. After a brief pull back in cases, no doubt the result of a the Thanksgiving holiday interrupting testing, cases shot back up this week, with several days of more than 200,000 cases.
The average number of deaths in the U.S. are also up, with more than 2,000 per day. Hospitalizations also continue to climb.
We are seeing more anecdotal evidence of the rising number of cases, specifically running across more people who know someone who is infected. We're also hearing of more workplaces shutting down and sending employees home.
Global Data
The picture is not much better, as you can see in this table: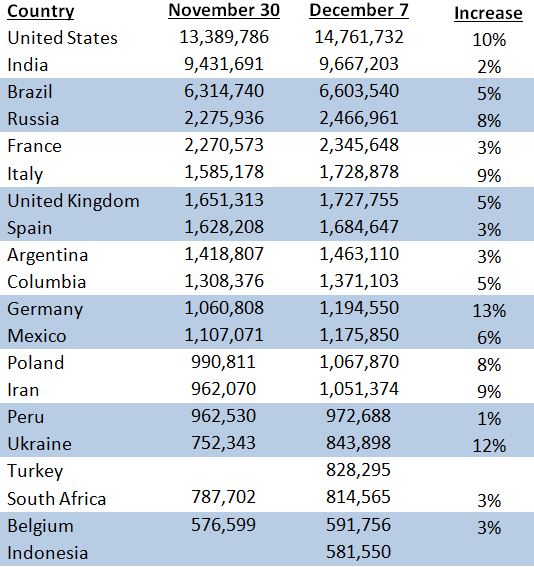 While there were some exceptions, the majority of countries saw their rate of case growth slow.
Italy rose two spots while the UK moved up one. Both countries surpassed Spain, which dropped from 6 to 8 on the list of countries with the most COVID-19 cases. Germany and Iran also moved up a ranking. Turkey and Indonesia also broke into the top 20 countries.
Globally, Johns Hopkins reported 67,178,542 on Monday morning, with more than 1.5 million deaths.