In a shocking turn around, word is starting to spread that COVID-19 in the United States may be gone, or at least reduced to a minimal level, as soon as April, and that things will be "back to normal" by summer. This means domestic airline travel could bounce back, people could go on vacation again, and schools and colleges could return to face-to-face teaching in classrooms in the fall of 2021.
Dr. Marty Makary, a professor at the Johns Hopkins School of Medicine and Bloomberg School of Public Health, writes in the Wall Street Journal that "We'll have herd immunity by April."
"There is reason to think the country is racing toward an extremely low level of infection. As more people have been infected, most of whom have mild or no symptoms, there are fewer Americans left to be infected. At the current trajectory, I expect Covid will be mostly gone by April, allowing Americans to resume normal life."
In the past two weeks, the number of new cases per day have fallen by 44 percent, and more than 80 percent since the peak of 300,000 new cases on January 8 to 55,195 reported yesterday. In the past week, the number of new deaths has also dropped sharply and hospitalization continues its downward curve. There are now less than half as many people hospitalized due to the coronavirus than at its peak seven weeks ago.
We talk about the social and economic impact of a world that has suddenly banished COVID-19 below, but first a look at the global numbers which are also dropping rapidly.
Global Numbers
Here are the global numbers showing the course of COVID-19 over the past week: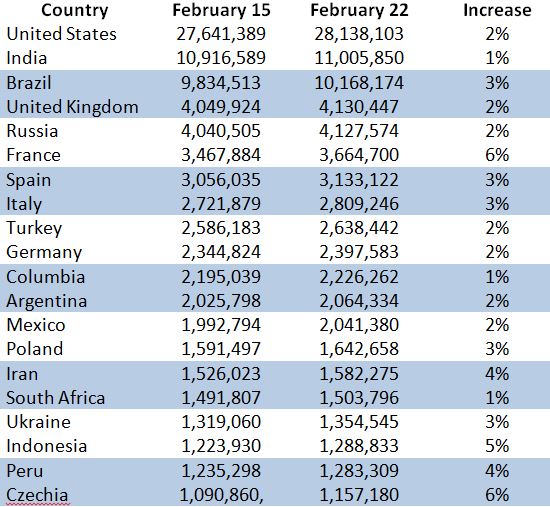 While the United States is poised waiting to report 500,000 COVID-19 deaths, India surpassed 11 million cases, Brazil passed 10 million, and Mexico exceeded 2 million cases in the past week. Otherwise, the COVID-19 chart on Johns Hopkins' website showed little change. Indonisia moved ahead of Peru, but otherwise the rankings were unchanged.
The rest of the world turned in some mixed performances, with cases I the UK, Russia, Spain, Italy, Germany, Columbia, and Medico were steady or down a tick, cases in France were up from 2 to 6 percent and also rose in Poland, Iran, Ukraine and Czechia.
What Does Getting Back to Normal Mean?
Let's assume for a minute that cases continue to drop and by May or June we are under 10,000 COVID-19 cases and related 100 deaths per day, or roughly 3 percent of the peak. One would think that would mean the following:
And end to lockdowns, re-opening of all types of business, and a return to full-service indoor dining at or near normal occupancy levels.
No more mandatory social distancing and mask wearing (although people may continue to do so voluntarily).
Re-opening of offices and a return to the former conditions in factories, meaning production that was cut back due to social distancing can ramp back up to prior levels, helping to alleviate shortages.
Mass transit ridership could jump, helping the many systems that are suffering from a lack of ridership over the past year.
Re-opening movie theaters (whether anyone attends is another story), live concerts, sporting events, trade shows, conventions, county fairs, and other large events.
A return to in-class grade school and college.
No restrictions on domestic travel and no capacity limits at tourist events like amusement parks, bus rides, cruise ships, ferries, or beaches.
Handshakes and hugs might even return.
The relaxing of the repressive rules could have an enormous impact on the economy. Yes, some things will take time to come back and some things may never come back (like forcing people to work in an office five days a week), but anything social will bounce back rapidly. That means restaurants, bars, summer camps, boardwalks, beach vacations and many other activities that restart could provide millions of jobs in a fairly short time.
Massive Psychological Lift
There could be tremendous psychological benefits of a return to group gatherings like church, parties, weddings, graduations, funeral,s and just having friends over to visit. People will celebrate the return to normalcy, which could extend the economic benefits of reopening. When people feel confident they spend. When they feel exuberant, they over-spend. Either one will boost the economy.
Of course, exuberance leads to bubbles. Markets and people will be pumped-up and over-inflated, which makes the potential for a huge collapse that much worse. And what is likely to pop the bubble? Huge government deficits, rising interest rates, and increased taxes to compensate for the stimulus spending and lost revenue.
My advice is to use what I see as a coming period of exuberance as a time to prep. Buy that rural property you always wanted while mortgage rates are still low and you can sell your house at a good price. Buy your survival food and build your prepper pantry when the end of the world is the last thing on anyone's mind. (Look how quickly the Texas freeze has been dropped from the news cycle.)
Take your next stimulus check and dedicated it to paying off bills and improving your preps. Get a second job or a side gig while people are hiring. Use the time and money to prepare yourself for the next catastrophe because it seems like they are coming more and more frequently.
---
To put this rapid decline in case growth in perspective, we recommend you look back at COVID-19 at its peak when the UK was seeing cases grow at 16 percent over the course of a week.