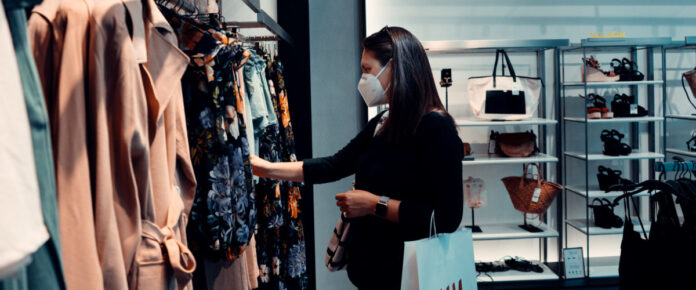 This week's COVID-19 report is much like last week: The U.S. is holding its own as the number of new cases flattens out, but Europe is doing worse and worse. Germany, for example, is experiencing an almost exponential rise in cases.
According to the New York Times, the U.S. reported 34,217 new cases of COVID-19 in the past 24 hours, along with 444 deaths. Hospitalizations dropped to 39,333, down about 4,000 from last week and the lowest they have been since early October.
Global Numbers
Here is how the 20 countries with the highest number of cases fared in the past week: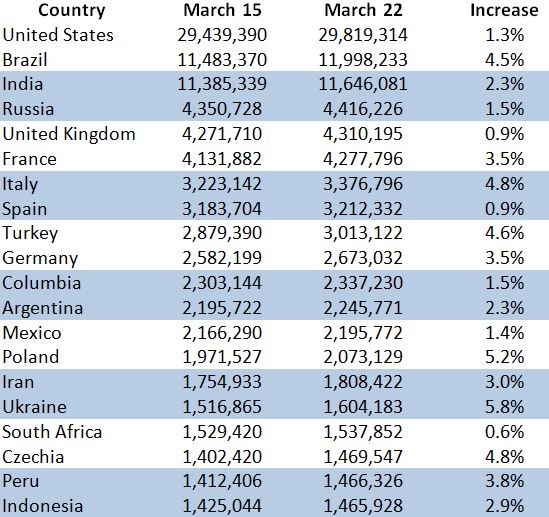 This week's table saw some positioning changes in the lower quarter. The Ukraine took the 16th spot from South Africa while Czehcia jumped from number 20 to 18. Brazil's numbers continued to climb as it struggles with its new variation of the virus. Turkey exceeded 3 million cases while Poland passed the 2 million mark.
There is some stratification on the table, with countries with 10 countries seeing cases rise between 3 and 6 percent in the past week while the other 10 countries were 2.9 percent or below, with three of them below 1 percent. Why is Spain at 0.9 percent while France is at 3.5 percent and Italy is at 4.8 percent? Experts say it is because of their continued social distancing and restrictions.
Vaccine Diplomacy
The U.S. is expected to produce a record 132 million doses of the COVID-19 vaccine in March as manufacturers optimize their production system and bring new lines and equipment in. Some have also started producing their own raw materials so that they are not as dependent on third-party suppliers.
This week, the U.S. said it would send 2.5 million doses of the Astra-Zeneca vaccine to Mexico and another 1.5 million to Canada. That particular the vaccine is not yet approved for use in the U.S., although there are tens of millions of doses on our shores waiting for FDA approval.
That the U.S. is in the middle of negotiations with Mexico, asking them to help slow the flow of refugees into the U.S., has nothing to do with this gift, or so they claim. Likewise, I'm sure 1.5 million doses isn't enough to get Canada to stop complaining about Biden's executive order shutting down the Keystone XL pipeline.
I expect these are just the first examples of vaccine diplomacy. In the coming months, we will see a massive U.S. effort to give, "lend," or sell vaccines to other countries, and those that can do us a favor or where we want to build goodwill. We will leverage our intellectual, pharmaceutical and manufacturing abilities to crank out billions of vaccines to benefit this country's reputation, pocketbook, and political position on the world stage.
It Won't Matter
Our vaccine diplomacy won't make a lasting difference in the world. Countries that hate and resent us will still hate and resent us. In fact, they may resent us more for rubbing their nose in it. Countries like Canada, where no vaccines are being produced, will benefit, but they are already our allies, and in a year or two, no one will remember the gift. A potential benefit is that we can give away more vaccine than Russia or China, which will keep them from making further inroads on the world stage.
Social Distancing Changes For School Kids
The CDC has revised its social distancing recommendations for school-age children, cutting it in half to three feet. According to former FDA Commissioner Dr. Scott Gottleib, the FDA implemented the 6-foot rule based on the assumption that COVID-19 would follow the same model as the flu, which was not the case. He also said during the CNBC interview that they likely over-emphasized the possibility of spreading via objects.
Will this help more kids get back to school? It should, but teachers' unions will probably continue to fight it.
Bad News from New York City
The Brooklyn, Queens and Staten Island are reporting an uptick in cases even as numbers stabilize across New York State, leading some to wonder if the city will experience another outbreak. New York has its very own COVID-19 variation, known as B.1.526, which may be responsible for the increase. It is possible that the new variant can re-infect people who have had COVID-19 in the past, as well as those who have been vaccinated. More research is being done to determine this variant's behavior,but if that is the case, it would be terrible news for New York and the country.
This raises a couple issues: First, if there's a new version of the virus that isn't controlled by the vaccine, then what is the point of taking the vaccine? Second, if this hits NYC as hard as the original disease did a year ago, then look out! Small business and restaurants are already hurting, mass transit ridership and revenue is way down, and people are moving out of the city. If they have another year like 2020, expect these trends to get worse, and expect anyone from New York to become persona non grata anywhere else.
---
To put this data into perspective, you can look at last week's report, data from the disease's peak in the U.S., or see how mild things were a year ago when COVID-19 was just starting to spread in the U.S and there were only 312,000 cases in the world.