Global deaths topped 3 million on Saturday with almost 19 percent of the deaths (about 567,000) here in the U.S. An ugly milestone for a disease that has existed for just over a year, it is still better than some of the early predictions that caused panic and lockdowns.
Thanks to rising cases in hotspots like India (over 261,500 cases reported on Sunday), Brazil and Turkey, and vaccines from China and Russia that may not be as effective as we were lead to believe, it is becoming clear that COVID-19 will not be going away in 2021. As mutations spread and vaccine makers publicly discuss the need for a third booster shot, it becomes apparent that we may have to deal with COVID-19 for years.
U.S. Cases Flat
As cases continue to rise in much of the worlds, the number of new cases in the U.S. this past week held steady, and the 14-day average dropped even as re-opening became more common. Is it the flood of vaccinations, or are we reaching herd protection levels?
I think the drop in the U.S. is because so many of the elderly and other vulnerable populations have been vaccinated. Nursing home patients accounted for around half of all COVID-19 deaths. Now that the vast majority have been vaccinated, deaths yesterday were down to 352. We have not seen a number so low it since July of last year.
Around the world, younger people are getting COVID. The average age of those hospitalized is dropping. Does that mean the new variations are more dangerous to the young or does it mean that so many of the so many of the elderly have been vaccinated and are no longer getting sick? Although I have no epidemiological evidence, common sense tells me it is the latter.
Global Numbers
Here's a look at how the 20 countries with the most reported COVID-19 cases performed over the past week: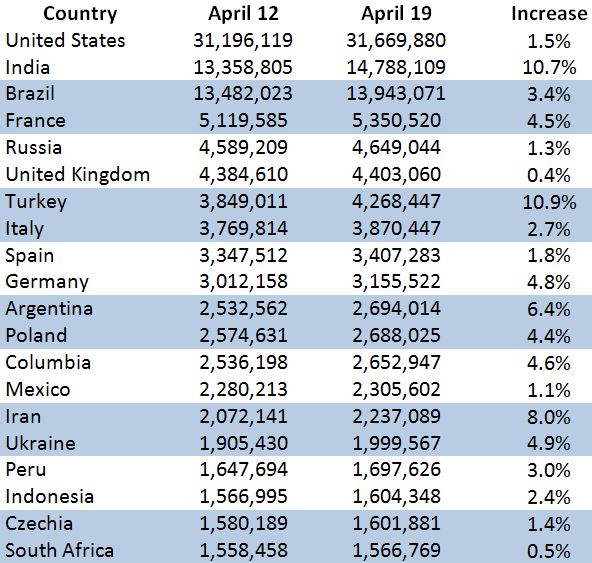 India jumped ahead of Brazil to take over second place. Read this article to get an idea of how bad things are there, with shortages of oxygen, drugs, and hospital beds, and imagine how bad it would be if cases increased 10 or 12 percent per week, which is possible in next week's report.
Argentina climbed two spots and Indonesia one. Germany saw number tick upwards again while France saw a small decline in its rate of case growth.
COVID-19 Lifestyle Changes
In the meantime, our lifestyle is now one where we are isolated on our mountainside and have minimal interactions with people who might be virus vectors. As an introvert, this bothers me not at all.
While COVID-19 didn't cause this change in our lifestyles, it is safe to say it accelerated it. Share how has your life changed in our comments section, below.
To put these numbers in perspective, check out the data from last week or our coverage of COVID-19 from a year ago.