Last week, we told you that the world had hit 350,000 COVID-19 cases in a single today. Since then, it surpassed 400,000 cases two days in a row and passed 40 million overnight, with 40.11 million total cases reported as of this morning. Any flattening of the curve has disappeared, leaving an arrow climbing upwards as case growth continues to accelerate.
You can see the top countries below, but there are increases in many European countries with lower case totals, like the Netherlands and Poland, that have not yet made list.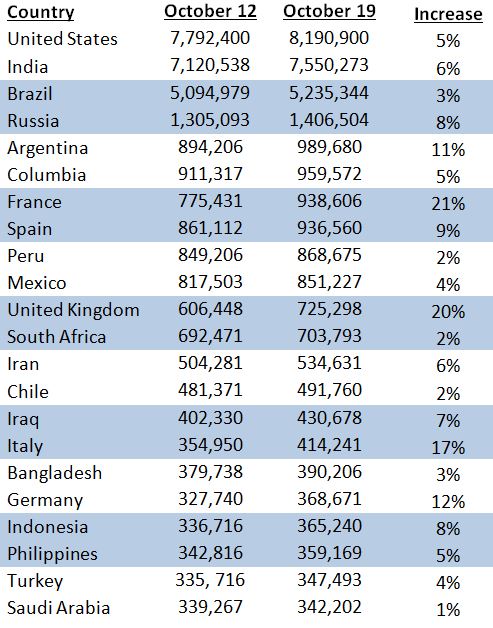 In this week's table of top COVID-19 countries, the big movers are France and Germany, which each climbed five spots. France now finds itself firmly in the top ten, thanks to a chart-topping 21 percent growth rate. Argentina, the UK, and Italy also climbed one. Turkey jumped two spots while Indonesia climbed three.
Europe is clearly the top contributor to case growth with France, the UK, Italy and Germany all in double digits. Case growth to be slowing in India, giving doubts that it will overtake the United States as the country with the most cases.
COVID-19 Growth Continues in U.S.
In the past 24 hours, U.S. cases grew by 47,601 to 8.18 million while deaths increased by 368 to 219,500. When viewed by the number of cases over the past 14 days per 100,000 residents , the Dakotas, Montana, Wisconsin, and Nebraska are leading the surge, even if their case counts in total numbers remain relatively low compared to new York, New Jersey, Florida, California, or Texas at their peaks.
For example, North Dakota is currently leading the New York Times list with 619 cases per 100,000 residents, which we should note is an infection rate of only 0.6 percent. This translates to 4,714 cases in the past 24 days and 31,983 total cases this year. Compare this to Illinois, which has had 28,885 cases in the past two weeks and more than ten times as many cases overall. Similarly, California has had 21,270 cases in the past 14 days and 878,346 cases total. Suddenly, North Dakota doesn't sound that bad.
In fact, here are the top 10 states for growth, based on the actual number of cases in the past two weeks, not percentages: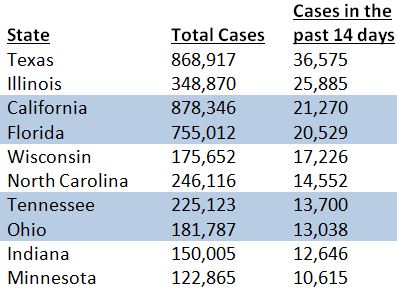 Yes, the Midwest and plains states are seeing COVID-19 cases growth, but because of their lower populations, this is havening minimal impact on U.S. infection rates. To blame the recent rice in cases entirely on Wisconsin is short sighted. In fact, the top four states on the chart above are responsible for more cases than the next eight.
COVID-19 is Here to Stay
No matter how you look at it, COVID-19 is not going away any time soon. While Pfizer and other companies are cranking out doses of the vaccine, they are not yet approved for use. Even if we assume it works, we do not know how effective a vaccine will be or how long its protection will last.
One year ago, no one had heard of COVID-19. In March and April it wrecked our economy. Since the outbreak in the United States, it has killed almost 200,000 people. We don't know what the next six months will hold, but prepare for it to get worse before it gets better.
---
If you enjoyed this article, you might like October 17 COVID-19 is Getting Worse and Americans are Prepping or October 12: Global COVID-19 Cases Jump 350,000 in one Day.