Coronavirus cases, deaths and hospitalizations across the U.S. continue to plunge, the curve heading downward at a steep rate as cases continue to drop 30 percent or more every two weeks. In the past 24 hours, there have been 86,889 cases reported and 1,301 deaths. Hospitalizations due to COVID-19 have dropped to 81,439, down 50,000 from their peak of four weeks ago.
The headlines on Friday the 6th were that there were more than 5,000 deaths, an unusual peak after deaths had been trending downward. But the story behind the headline is that this number included many deaths from other days that were not added to the tally in an accurate or timely manner.
Thank you, headline writers, for distorting the truth yet again.
Global Numbers
The rate of COVID-19 cases is also dropping across Europe, as you can see in this week-over-week chart.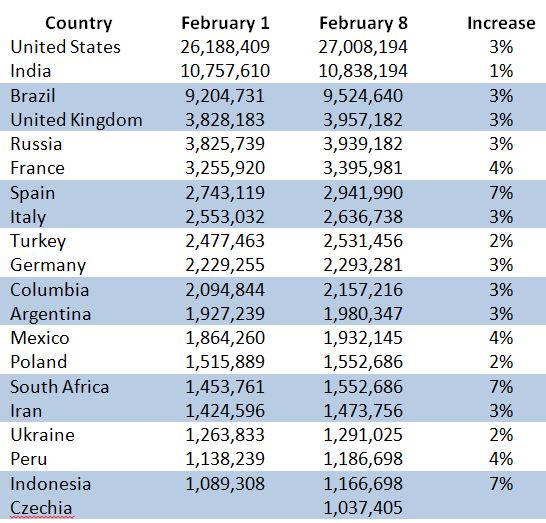 In our global chart, cases are down or steady with the exception of South Africa, which went up one. The UK, Spain, and Indonesia all dropped. For the first time, there are more than 20 countries with more than 1 million cases.
---
For more context, you are welcome to check last week or last months report. The report from one month ago reflects the virus' latest peak.